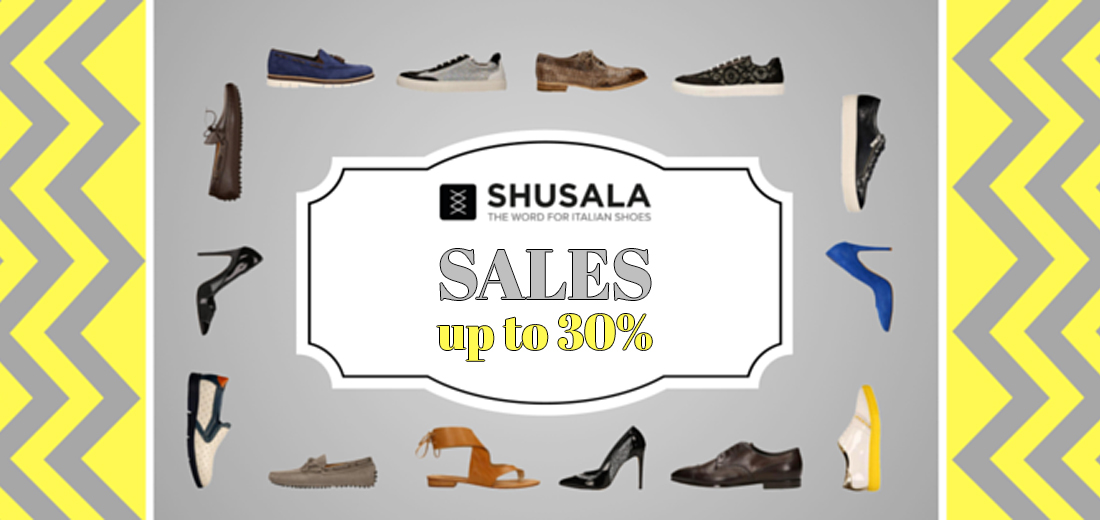 Summer is upon us, and with it comes the start of summer sales. What better time to fill your wardrobe with all the crucial clothes for summer 2016?
Summer sales 2016: your guide to follow the right directions
Summer, time for suncreams, swimwear, fun and … summer sales! We've been waiting for them, searching, longing, perhaps thinking of that garment we had fallen in love at first sight with. Yet the one we could not buy immediately. And then the sales finally arrived…
The bargains that can be found in this period, however, should not be an excuse to put style and good taste aside. OK to reduced prices, but one needs to keep an eye on the quality of what we are buying. And this is even truer for shoes, one of the more important "not ancillary" accessories in a man's outfit, especially in hot weather.
Summer sales: say yes to bargains, and no to scams
Sales can be a great opportunity to shop at super affordable prices. But you need to steer clear of unpleasant situations. Here are some guidelines to tackle summer sales properly.
Ok the price is (not) right: the first rule for tackling sales properly is to do your preparation. This means it might be worthwhile monitoring prices in the days preceding the start of the sales, to check if the discount has been applied, and whether it was done properly;
Do not buy what is reduced, buy what you need. Often when faced with so many offers you tend to get caught up in "compulsive buying" and then, you do not pay enough attention to your wardrobe's real needs. It is better to resist temptation of the reduced tag, and carefully select the clothes we really need;
Online Shopping: the web is a true source for bargains. A good way to save money, especially for those with little free time, is to shop online. On the web today you can really find everything, and have it with just a simple click … From the comfort of your couch at home or from office chairs.
Forget the commercials: their massive claims such as "Total Liquidation", "Until stocks last", "Unbelievable prices" generally hide unpleasant surprises. So you need to keep your eyes peeled and don't be fooled by easy discounts;
Top brands, low prices? Top brands and super attractive prices: the winning combination of summer sales? Yes and no. In the sense that you might have to watch out, so as to not buy clothes that might date back to prehistoric collections, or have small manufacturing defects. The risk is that at its first wash your purchase vanishes … like a soap bubble!
Summer Sales: don't let women's shoes slip through your fingers
With the start of summer sales the first product to be reduced is always this one: women sandals. The goal of all women is only one: find a nice pair of shoes, that at the same time can withstand all the comings and goings between aperitifs, dinners and summer parties. And above all, that can be matched with any style that you choose to wear, from beach parties, pool parties, to a special dinner.
But summer is not only parties and glitter. Good weather brings about the desire for outings and holidays in heavenly places. The passe-partout in these cases? A nice pair of sneakers! They are comfortably perfect for walks, long days away from home, and dashing from one commitment to another. Why not take advantage of summer sales to buy a pair?
If you are not a lover of heels, but you need a pair of shoes that allow you to be impeccable and comfortable both at work and in the evening, then the most fashionable choice with summer discounts is women's lace-up shoes. Likewise, if you want to give to your look a touch of glamour, you can choose a derby without laces: sophisticated like open-laced shoes, perfect (especially in black) and suitable for any colour combination you choose to wear.
Shoes for him to put in the wardrobe with summer sales
For men summer sales mean one thing: men's moccasins. They come in different colours and shapes, but this shoe is one you simply cannot do without. With the beginning of summer sales any man who decides to buy a pair of shoes on sale cannot help but think of this classic, elegant and timeless model. Even more fashionable if you choose the suede version, perhaps being slightly daring with its colours.
Instead, those in need of an even more elegant shoe can play it safe with a leather moccasin, with the band on the instep.
Sporty types may resort to sneakers: useful, simple, never banal, and suitable for every occasion. Trendier than plain old trainers, at ease even in the poshest of situations, sneakers have now conquered a place in the imagination of modern man. No wardrobe worthy of respect can go without a pair of sneakers.
What do you say, shall we start shopping with these summer sales? Thanks to the proposals on shusala.com you are just a click away from your Made in Italy quality shoes at a bargain price! Discover every model in our men's/women's collections.